Today we have another guest poster, Emily from Lynde Avenue. She's kindly offered to write a post while I've been too busy. So without farther ado, the post...
Hey, everyone! It's Emily from
Lynde Avenue
, and I'm very honored to be guest posting on my friend Kat's blog today. We're both runners, so I thought it might be cool to do a piece about winter running! (Ironic though, seeing as it's actually summer over there in Australia.) But enough chit-chat - let's get to it, shall we? Read on for my tips for surviving that 7 mile winter run.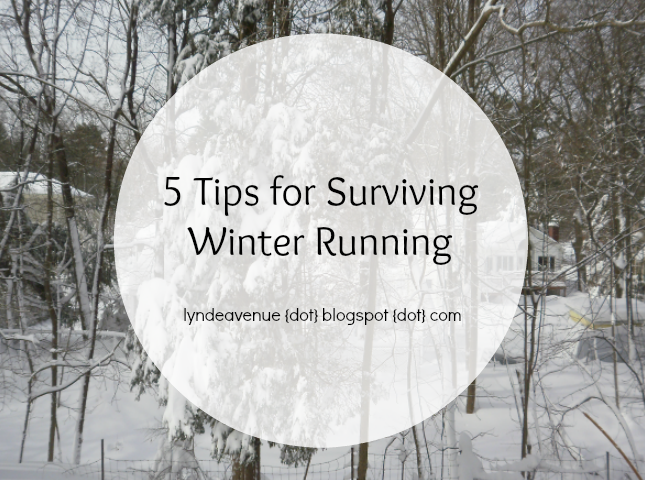 1. Lay out your clothing the night before. No skipping out! It's easy to say that you're going to go for an early morning run now, but when tomorrow rolls around, you might find yourself feeling quite differently. Lay out your clothing and gear to remind yourself - no giving up before you've even started!
2. And while we're at it, have the right clothing! Are you really going to want to keep going when it's 30 degrees out and you're freezing your butt off in shorts and a T-shirt? Make sure you start out with the right clothing! When it's down in the 20's I usually wear yoga pants (or leggings if you prefer), cotton socks (I actually think this might be a no-no...), a T-shirt, and thin fleece jacket. I know that some runners get hot quickly and have to start shedding layers, but this ensemble actually works out quite comfortably for me!
3. Have a destination in mind. You know how hard it is to just run up and down your street? Or to the park and loop back around? (
For me personally,
anyway.) It helps to have a destination, so you have a concrete goal to strive for. Instead of doing loops, why don't you run to the Dunkin' downtown? And while you're at it, you might pick up breakfast for your little brother too. You'd be surprised by how much that solid layout of where you're going helps you actually get there!
4. Tell someone the route. And what time you anticipate getting back. It's pretty dark in the morning in the winter, making it more likely for accidents to happen by sleepy / tired drivers not seeing pedestrians. By telling someone the route and what time you plan to be back, they'll know your plan if anything happens.
5. Start out early. While on the topic of motivation, you'll also want to start out early so that you don't have time to think it through and say no. I usually head out at 7 or 8 - better to get it over with than drag it out! And, bonus - you'll feel great throughout the rest of the day knowing that you did it, and you might also surprise yourself by unconsciously making healthier food choices.
I'd like to thank the wonderful Kat again for letting me guest post - it's been awesome! If you guys want to see more of me every week, you can find me either chillin' on
Lynde Avenue
or redesigning at
Twenty-One Designs
. I'm also on
Bloglovin,
GFC,
and
Twitter
- stop by and say hey! See you guys soon.
PS - Like this post and want to see more on athletics? Also check out...
+
The First Mile
+
An Interesting Kind of Breakfast
Emily is the 16-year-old blogger behind lifestyle blog Lynde Avenue. A lover of slippers, sheet music, and exotic tropical smoothies, she's never one to miss sleeping in on a snow day nor curling up with a good book!
You can find her over at her blog, Lynde Avenue where she posts beauty tips, bucket lists, tags, tips and many other helpful things. Be sure to check it out, you won't regret it!
And before you all go, may I just wish that you're all having a wonderful start to your Christmas season. I sure know I am. I'm enjoying spending my time with my family, reading and drinking many cups of tea!
-Kat